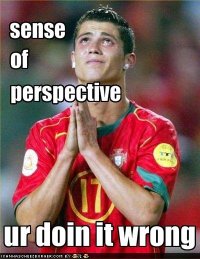 Poor little Cinderonnie. Wicked Uncle Alex is stopping him from going to the ball Real Madrid. Still, all is not lost… it turns out that his fairy godfather has arrived in the shape of…
Sepp Blatter!
Yes! FIFA's own surreal stand-up comedian has likened Cristiano's plight to modern slavery. Apart from the bit about being bundled into a transit van and driven illegally across borders in the dead of night, obviously. Oh, and the underage prostitution, heroin addiction and constant threat of physical violence. And technically, he probably gets to keep most of his £100k weekly pay packet, giving just a small cut to his agent, rather than having to give the whole lot to a menacing Russian pimp with gold teeth and a machine gun.
But yeah, apart from a few small details, tantamount to modern slavery. It's a shit job, y'know?